Practicing solidarity in essence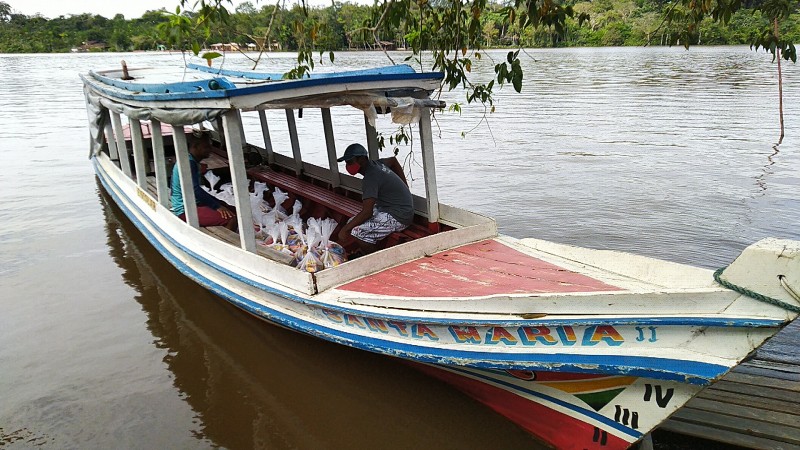 How Ecam Negócios Sociais managed to mitigate the effects of the pandemic on vulnerable communities, transforming resources into more effective emergency and permanent actions
The term solidarity comes from the Latin solus, which means soil, ground. Exactly what the pandemic took away from many families, who found themselves without their ground from one day to the next, either because they were directly hit by Covid-19, which in March 2020 had already left the Manaus health system in collapse, or because they found themselves isolated and unable to sustain themselves economically.
It was in order to restore this ground to several communities in the Amazon region that a group of national and international organizations joined the private sector to allocate resources to fight the Covid-19 pandemic. After all, a pandemic can reach the entire world with the same virulence, but there is no question that the consequences for vulnerable populations are far more severe.
However, it is useless to have resources if their implementation at the end is not carried out in a strategic way. That's why Ecam Negócios Sociais came into play, putting into practice a concept that is also at the heart of the meaning of solidarity: mutual cooperation and interdependence. A principle that guided the work carried out in the metropolitan region of Santarém (PA), in quilombola communities in Amapá, in Abaetetuba (PA) and in Porto Velho (RO).
Working together with these communities, Ecam carried out a series of diagnoses and analysis that pointed out the real needs of each public in the three main fronts to fight the pandemic and its consequences: communication and awareness of the population about the care to be taken; support to local health systems with equipment; humanitarian assistance with donations and support for economic activities that were most affected by the pandemic.
Communication
The collaborative mapping method guided all lines of actions and donations. It was no different in choosing media with greater potential to reach more people with campaigns about preventive care against the coronavirus.
That way, a communication format was established that prioritized printed informational materials, radio spots and releases for the local press, generating repercussion in the community with a reach of more than 320,000 people, in addition to dozens of articles.
Thus, those who were left without ground began to envision a new way of walking.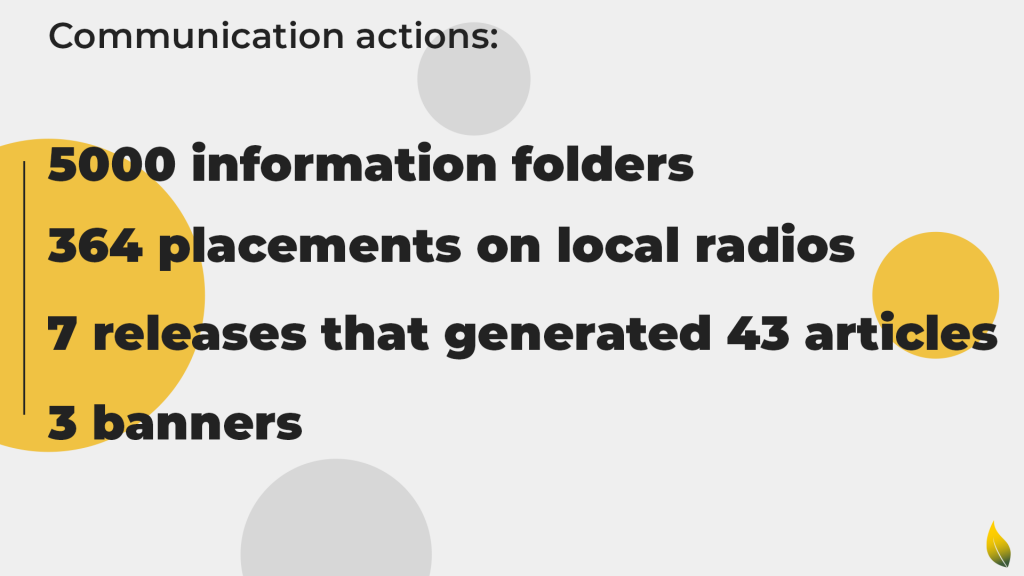 Support to health systems
This journey is especially arduous for health professionals working on the frontlines of the pandemic. In addition to respirators and testing equipment for the largest reference hospital in the Lower Amazon region, in Santarém, which serves 20 surrounding municipalities, the diagnosis pointed out that other needs had to be considered.
The first was the improvement of care quality for patients undergoing renal therapy, a scenario that was aggravated by the pandemic, increasing the hospital's demand for hemodialysis sessions by five times. Another important need was the recovery of patients who won the fight against Covid-19, but who still needed to face a long process for recovering their physical abilities.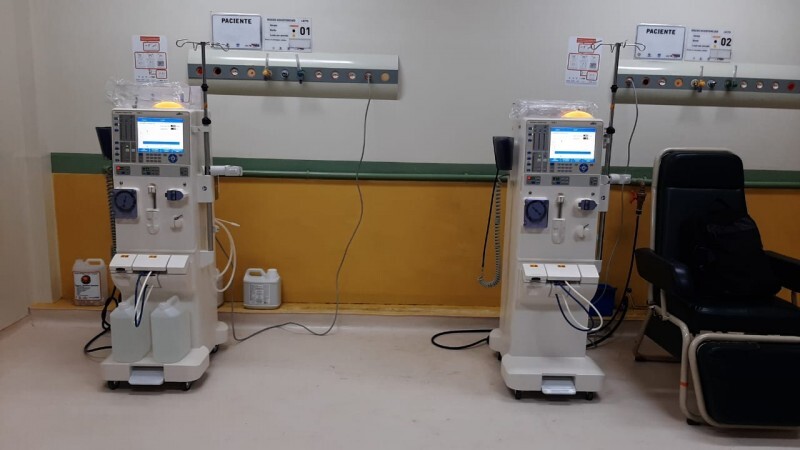 Photo: Ecam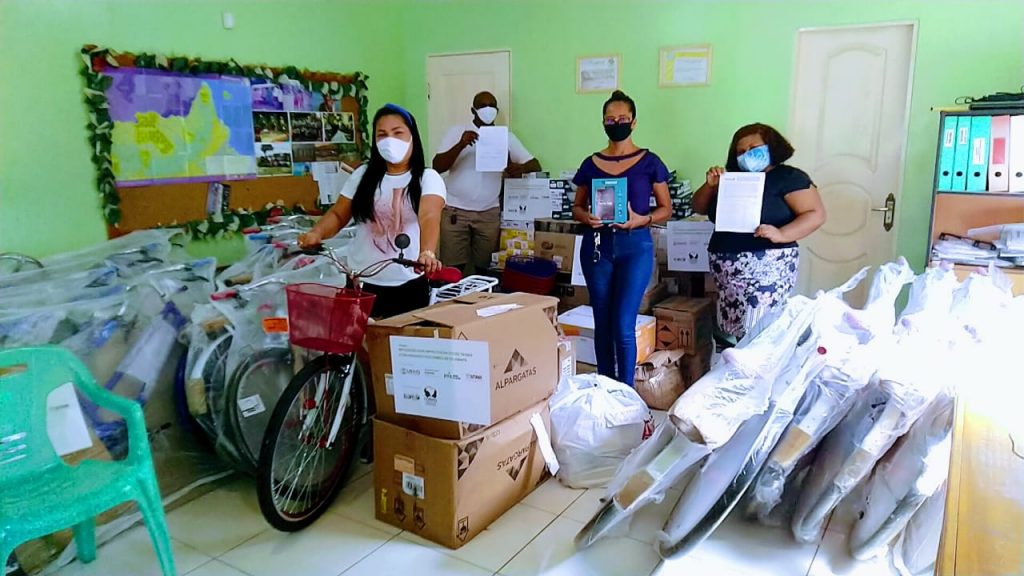 Photo: Ecam
Thus, individual outpatient equipment, equipment to fight COVID and to treat its sequelae were donated, besides support for the creation of physiotherapy and pulmonary rehabilitation facilities in Santarém, Belterra and Mojuí dos Campos, adding up six new centers for post-Covid 19 rehabilitation in those municipalities.
"We would look at each situation in detail to understand what would really be useful. For example, it would be useless to buy equipment that was not supported by the hospital's power grid or that would not be useful beyond a pandemic situation. So everything was thought out so that it could be as permanent as possible and, thus, make the impact of the social investment that was being made more effective". Fábio Rodrigues, project coordinator at Ecam Negócios Sociais
In Amapá, where the project served 63 quilombola communities, the needs were even more basic. There was a lack of PPE for community health agents, who provided care inside people's homes. On top of delivering hospital supplies, the project alleviated the impacts of Covid-19 with the distribution of staple food baskets, masks, and hygiene kits for people in vulnerable situations.
"Actions that aim to guarantee food security and the protection of community health agents are essential to assure the resistance and existence of these quilombola communities". Meline Machado, project coordinator at Ecam Negócios Sociais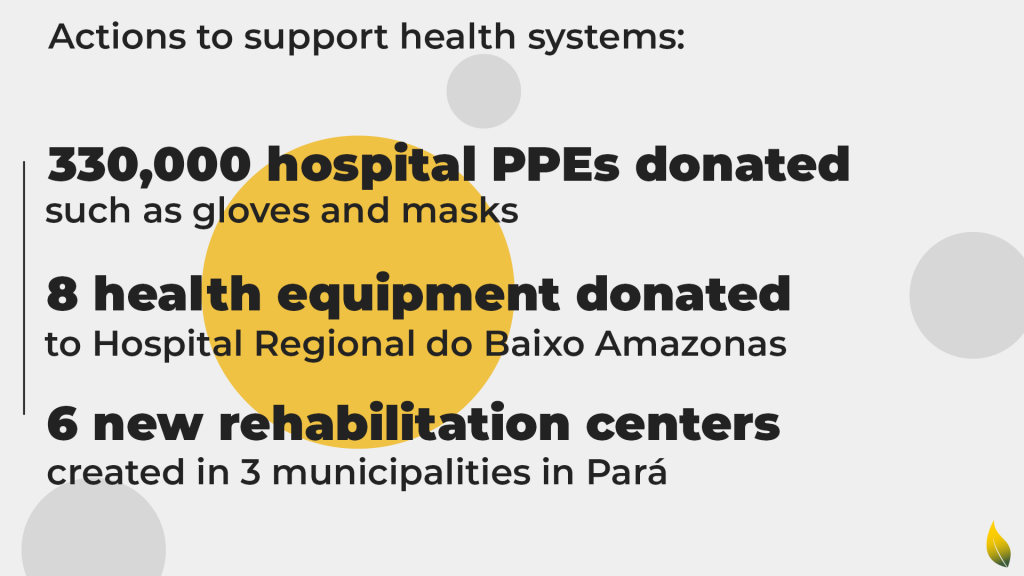 Humanitarian and economic assistance
If solidarity is related to the ground, it is impossible to think about emergency support without looking at the land that sustains the economy of many of these communities.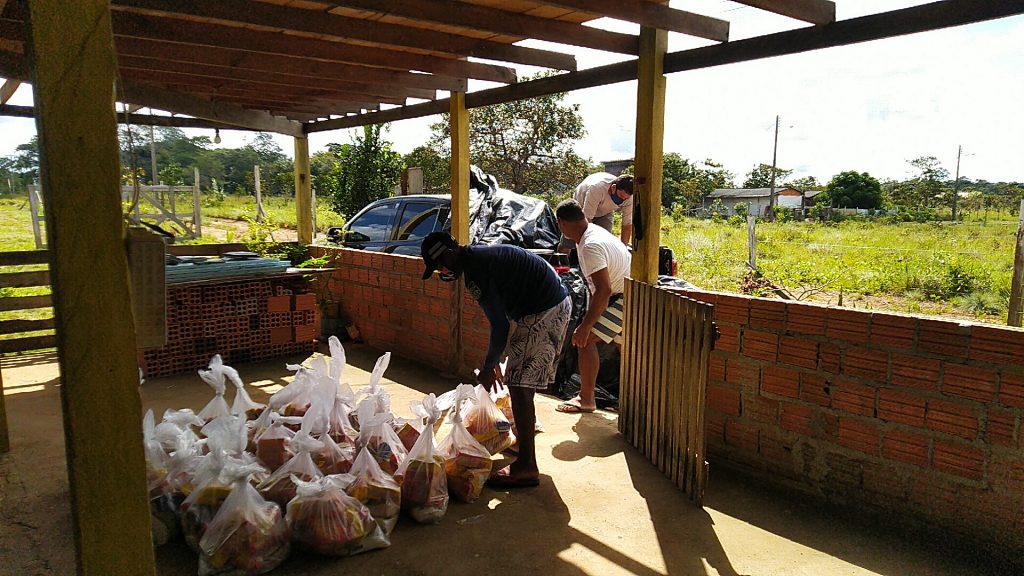 Photo: Ecam
Bearing this in mind, Ecam Negócios Sociais decided that the more than 1,700 staple food baskets donated to vulnerable families in Pará would have products purchased from a cooperative of family farming producers with representation in the three municipalities where the project operates. The investment of R$ 65,000 reais was made through direct purchases and benefited more than 10,000 people directly, closing a virtuous cycle of humanitarian and economic support in the metropolitan region of Santarém. It is estimated that R$ 256,000 were injected into the local economy with the purchase and distribution of the baskets.
Also, Ecam Negócios Sociais carried out a situational diagnosis of family farming cooperatives in order to identify the social and economic impacts felt by the organizations and their members. The diagnosis enabled the identification of challenges experienced during the period of social isolation and drastic reduction in consumption.
The work was extended to agricultural producers, who form an important part of the region's economy, and gave rise to an action plan that provided financial support for working capital in the amount of R$ 150,000 divided between three cooperatives chosen after a diagnosis, benefiting directly and indirectly more than 200 farming families. This initiative also invested in the qualification of managers and cooperative members through training programs and workshops on the functioning of production activities, communication and monitoring of results.
The same approach was taken to the land of quilombola communities in Amapá, using participatory mapping as a tool to support the construction of strategies aimed at strengthening the production of quilombola family farming and reducing food insecurity in these territories. In all, more than 9,000 quilombolas were supported.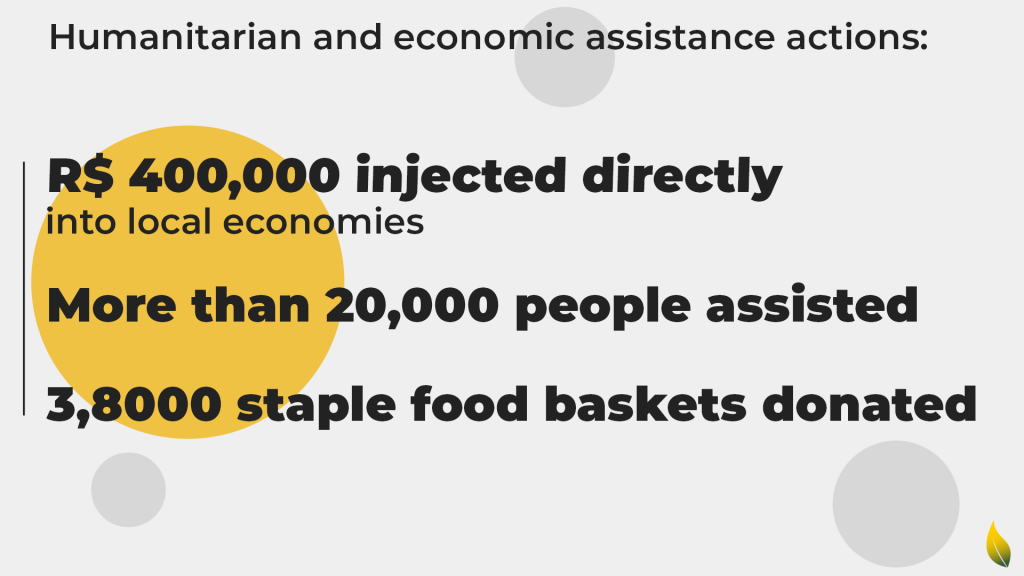 Broadening the vision of solidarity beyond momentary assistance, with a strategic and collaborative vision between communities and private partners, may require greater effort in the planning phase. But in the end, it manages to be agile to meet the emergency circumstances that a pandemic requires and at the same time be more effective in meeting the needs of the entire community and partners involved. It is a solid work, which brought new ground to these territories and restored people's dignity.
It is this form of strategic action, close to human needs, agile and effective, that Ecam Negócios Sociais wants to take to more territories, seeking to maximize the potential of social investments made by companies that seek to generate a positive social impact on society.
Note: In this experience, Ecam was able to count on the alliance of local populations and various public and private sector institutions, including USAID, NPI Expand, Plataforma Parceiros pela Amazônia (PPA), SITAWI Finanças do Bem and Cargill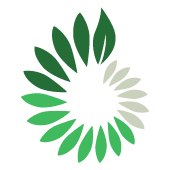 Atuando pela integração entre o desenvolvimento socioeconômico e o equilíbrio ambiental, a Ecam desde 2002, busca promover ações inovadoras, motivadas pelo interesse da sociedade e alinhadas à conservação do meio ambiente.